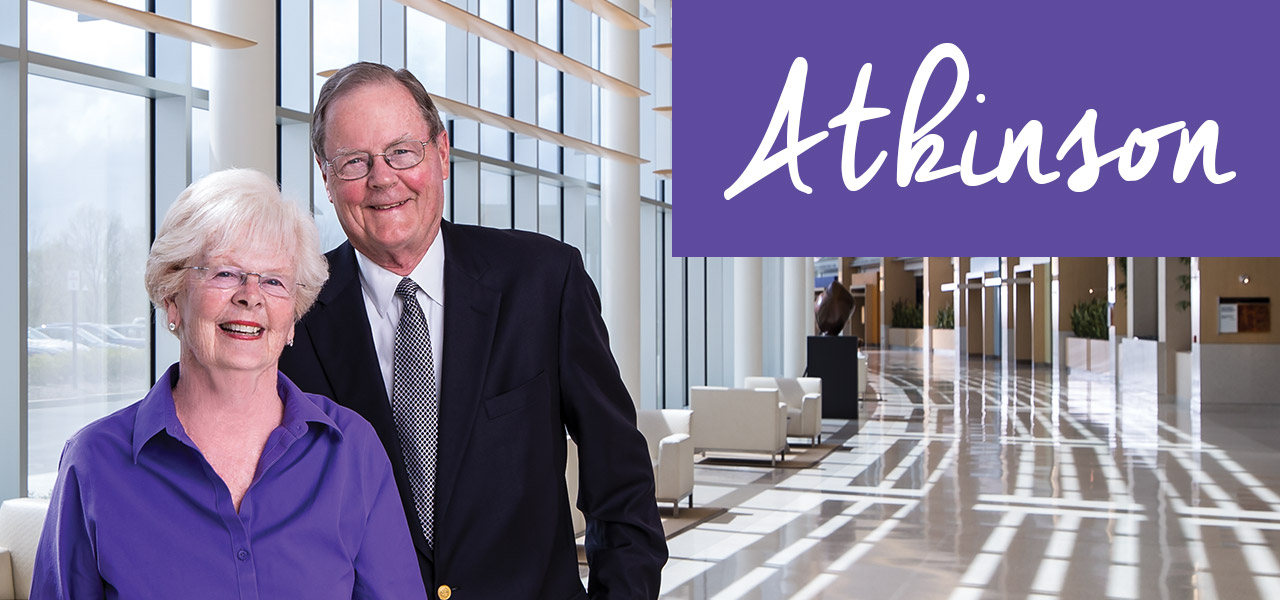 David and Patricia Atkinson, long-time area residents, have pledged $25 million in support of the new Princeton Medical Center.  The Atkinson donation, when fulfilled, will represent the largest gift ever made to a hospital in New Jersey.  
Mr. and Mrs. Atkinson, former residents of West Windsor, pledged their contribution as part of a matching gift program in order to encourage other donations to the new hospital. A portion of their gift ($5 million) will be set aside to match gifts from physicians and hospital staff.   The remaining $20 million will be used as a one-to-two match for gifts toward the construction of the new hospital.  Through this program, the Atkinson's $20 million could raise an extra $40 million.  The matching program is available through December 31, 2010.
The Atkinsons Give Back to their Hospital
"Pat and I are excited by the giving opportunity created by the new hospital," said Mr. Atkinson.  "The existing Princeton hospital has played an important role in our lives. Both of my parents received treatment in the hospital's intensive care unit. I had major surgery at the facility some years ago. Two of our five grandchildren were born there. We are particularly excited by the idea that the new hospital represents an opportunity to create a new facility from the ground up that incorporates both the latest medical technology and best thinking in hospital design."
"This gift will enable Princeton Health to redefine how healthcare is provided throughout the region. It will enhance significantly the quality of the lives of our patients and their families," said Barry S. Rabner, President and CEO of Princeton Health.  "We are exceedingly grateful to David and Pat for this extraordinary gift. We thank them for sharing our passion and vision."
"We hope that this challenge to our medical and dental staffs as well as all our employees will encourage their philanthropic support of this once-in-a-lifetime opportunity — to build a state-of-the-art hospital for this community and this region," said Peter Yi, MD, co-chair of the Physician's Development Committee.
About the Atkinsons
Mr. Atkinson is a private investor who maintains an office in the Princeton area. He retired in 1992 as a general partner of Miller, Anderson & Sherrerd, a suburban Philadelphia-based money management firm. Morgan Stanley acquired his limited partnership interest when it purchased Miller, Anderson & Sherrerd in the mid-1990s.
Prior to joining Miller, Anderson & Sherrerd in 1980, Mr. Atkinson was a vice president at Morgan Stanley, where he started an emerging growth stock service and published a weekly commentary on liquidity trends and their implication for equity prices. Prior to Morgan Stanley, he was a partner at Franklin Capital Investors, which managed the University of Pennsylvania endowment. Before Franklin, Mr. Atkinson managed a mutual fund for Scudder, Stevens & Clark that invested in emerging growth stocks. After receiving an MBA from Wharton, he spent his first six years in the investment business at J.P. Morgan, where he was an investment research analyst and a pension portfolio manager.
Before attending Wharton, Mr. Atkinson was an officer in the U.S. Navy for two years, after received an undergraduate degree from Cornell University. Mr. Atkinson grew up on a farm outside New Egypt, NJ, and graduated from Allentown High School in Allentown, NJ.
He is a life member of the Cornell University Council. With a passionate interest in sustainability and environmental issues, last year Mr. Atkinson provided seed money for Cornell University to establish a Center for a Sustainable Future. The Center focuses on energy, the environment and economic development. The Center takes an interdisciplinary approach to addressing these complex and interrelated subjects.
Mrs. Atkinson was active in the Princeton Hospital Auxiliary for many years. She served as membership chair for 10 years and as treasurer for two years. Mrs. Atkinson has also been a volunteer for the Princeton Meals on Wheels Program for more than 20 years. She is a graduate of the University of Southern California.
Together, Mr. and Mrs. Atkinson have been longstanding Princeton Medical Center Foundation and Auxiliary donors. They currently live in Pennsylvania.
"This astonishing gift, being made by two caring and extraordinary people, will greatly enhance our fund raising efforts and allow us to build a new hospital that will provide superior healthcare to the region for years to come," said Joe Stampe, vice president of Development for Princeton Medical Center Foundation.