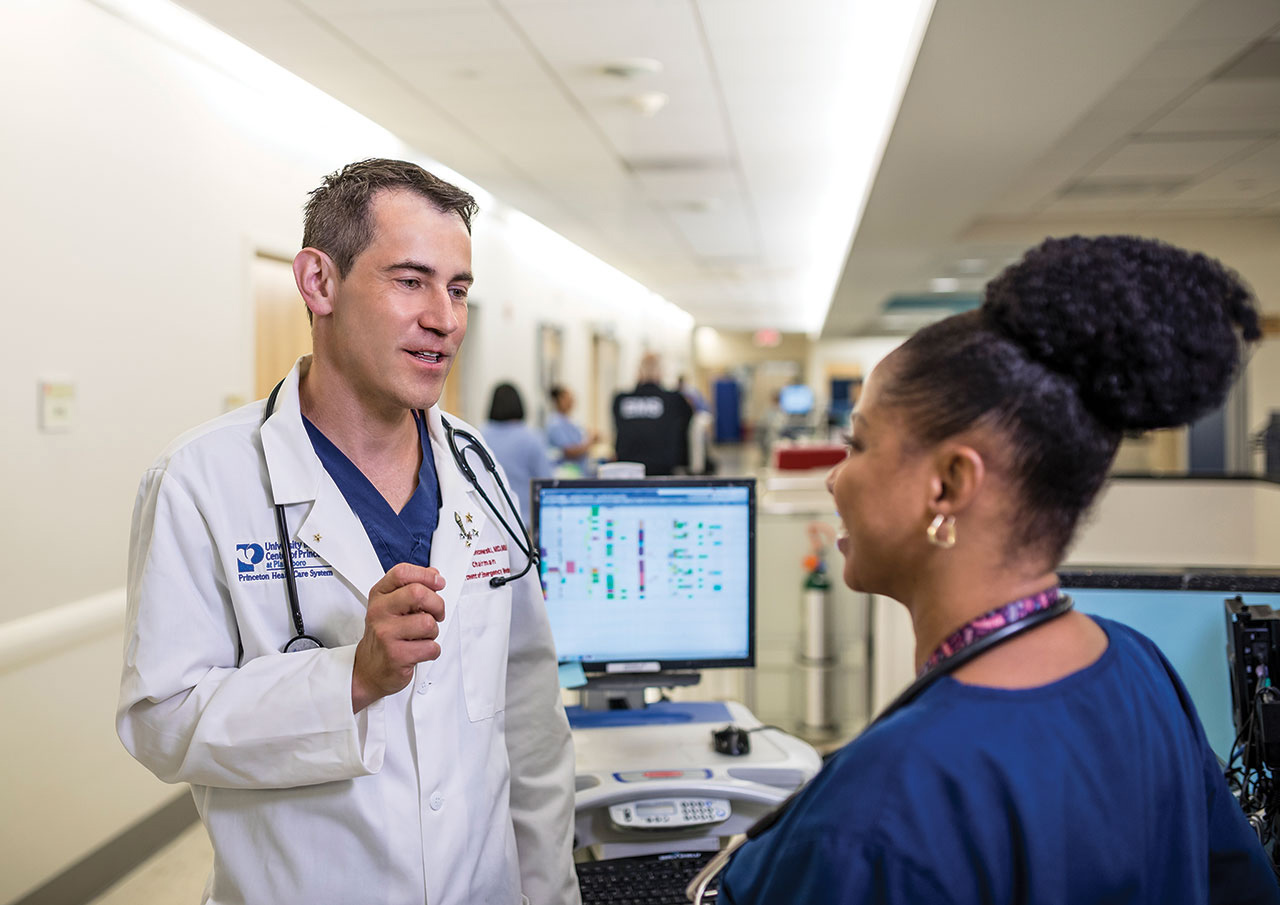 Q&A with Craig Gronczewski, MD, MBA
Q: How have healthcare trends changed Emergency Department (ED) activity?
A: Ten years ago, more than 50% of medical admissions into the hospital were through the patient's primary care office. The patient would go straight to the hospital and bypass the ED. In addition, today, some acute care that was historically managed in a doctor's office is now almost exclusively directed to an ED for initial evaluation. Compounded by declining reimbursements, this has meant that the volume and acuity of patients treated in our ED today is significantly higher than a decade ago, resulting in nearly 100% capacity levels during peak periods. 
Fortunately, we have a team of exceptional board-certified emergency medicine physicians, supported 24/7 by pediatricians from The Children's Hospital of Philadelphia (CHOP), and a nationally recognized nursing staff. This team provides state-of-the-art care and works consistently on improving our efficiency, patient satisfaction, and patient flow. 
Q: What is your biggest challenge given these changes, and how are you staying at the forefront of emergency medicine?
 A: One of our biggest challenges is the timeliness of helping patients through the ED quickly, and admission if needed. We have updated the ED to better serve our patients. The department has been redesigned to help us accelerate the treatment and discharge of patients with lower acuity and speed up hospital admissions for patients with more serious illnesses. 
Training and continuous learning are critical to staying ahead of the curve. The ED staff recently took part in the Crew Resource Management Program, which was originally developed by the aviation industry, to promote effective teamwork in crisis situations. Like aviation, emergency medicine involves considerable coordination among many people, requires staff to constantly adapt to changing conditions, and has the potential for serious consequences for communication errors. Our focus on consistent training has had a significant impact on strengthening communication, leadership, and decision-making skills. 
Q: How can you continue to expedite care and ensure patients have a positive experience with the ever-increasing volume you are handling in the ED?
A: One way is by employing nurse navigators to help improve the movement of patients from the ED into the hospital and out to ancillary services (such as home care, rehab, and visits with a specialist); answer questions and provide updates; and engage social services when needed. Patients on average retain only 50% of discharge instructions, and nationally 3% of patients revisit the ED within 72 hours of their initial visit. A nurse navigator will be able to tackle this issue by reviewing discharge instructions and conducting follow-up calls once patients are home to ensure adherence to the discharge plan. This is particularly important with seniors, who may take multiple medications. Many elderly patients have no one making sure that their drug regimen doesn't produce adverse reactions, which can lead to revisits to the ED.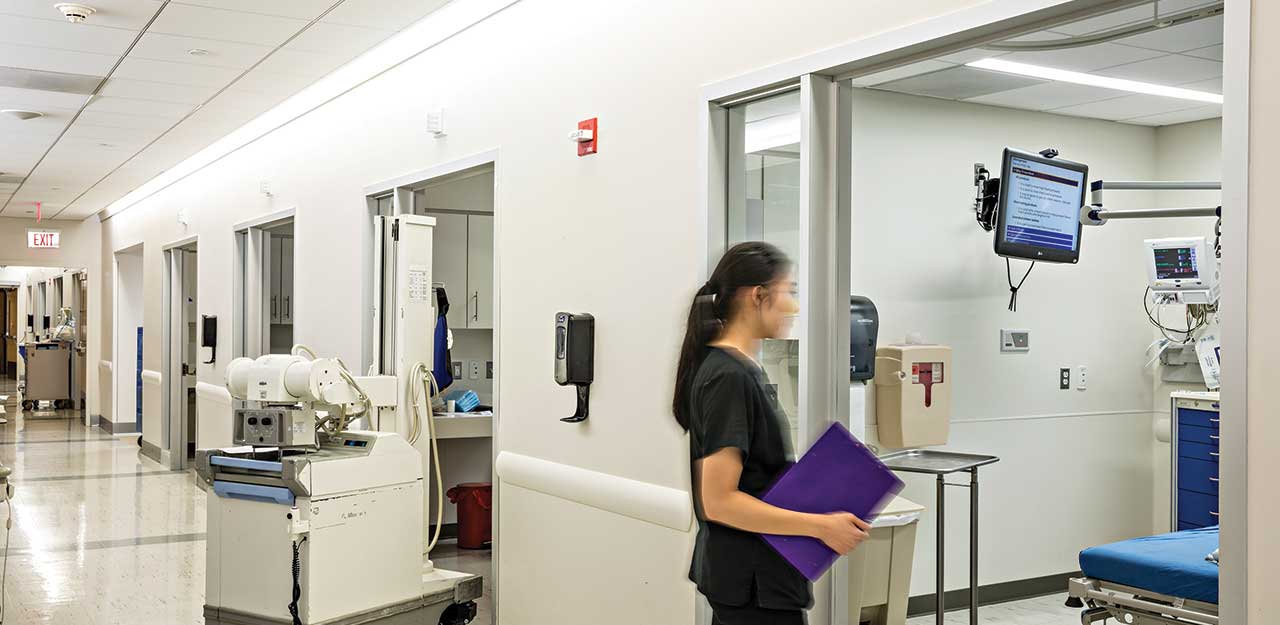 Emergency Department Nurse Navigator
Established as Princeton Hospital nearly a century ago, Princeton HealthCare System (PHCS) has grown into a comprehensive health network serving more than half a million people each year. This unprecedented growth has made University Medical Center at Princeton (UMCP) a destination hospital for many, but has created challenges in our Emergency Department (ED) along the way. 
Our 35-bed ED serves five central Jersey counties and treats almost all types of medical emergencies. During peak periods it operates at 100% capacity. It is essential in this fast-paced environment to keep the lines of communication open between families and patients. Hiring an Emergency Department Nurse Navigator will help facilitate a smooth and stress-free experience for each patient entering the ED.  With close to 50,000 patient visits in 2016, the need for this kind of assistance has become a high priority.

The Nurse Navigator will act as a liaison between the patient and the medical staff, review discharge plans and provide education, follow up with high-risk patients once they are home, help to schedule additional appointments, and assist with insurance questions and medication management. Furthermore, the navigator will offer emotional support, easing the anxiety patients and families often feel. If you are interested in finding out more about how you can support this important funding initiative, please contact Sandy Roberts, Senior Director of Major Gifts, at 609.252.8701 or at foundation@princetonhcs.org.
---
Community-Driven Care
When they moved to Princeton more than 30 years ago, Jack Borrus and his wife, Adele, were more than satisfied with all this area has to offer, but that didn't stop them from wanting to make it even better. They gave $5,000 that first year in support of our Emergency Department and haven't stopped giving yet.
"We realize the vitally important role the hospital plays in our community," said Mr. Borrus, who has used the ED at Princeton HealthCare System many times over the years. "My wife recently went to the ED because she had trouble breathing. They did everything right. She was diagnosed with pneumonia and was promptly admitted and successfully treated."
This past June, the couple allocated a $25,000 multiyear gift to the ED through the Dr. James J. O'Connell Fund, a charitable remainder trust of which Mr. Borrus is the sole trustee. 
"The ED is one of the most important and busiest facilities in the hospital," said Mr. Borrus. "They treat more patients than many people realize."
---
Article as seen in Foundation News Fall/Winter 2017.