State-designated Primary Stroke Center
Your Trusted Source for Stroke Care
Designated by the State of New Jersey and the Joint Commission as a Primary Stroke Center, Princeton Medical Center (PMC) is your trusted source for stroke care. We have proven we have the expertise, technology and skill to diagnose and treat people who experience strokes.
The designation as a Primary Stroke Center signifies that PMC maintains neurology and Emergency Department personnel trained in the diagnosis and treatment of acute stroke, as well as acute care rehabilitation services for our patients. From acute care in the Center for Emergency Care through rehabilitation and home healthcare, PMC has developed a comprehensive protocol to fully address the many complex needs of individuals who have had a stroke. This protocol for stroke treatment and recovery was carefully designed by a multidisciplinary team of healthcare professionals.
Our goal is to help each patient resume life after a stroke as quickly as possible.
Setting High Standards for Stroke Care
At PMC, you can take comfort in our advanced capabilities:
Specially trained, acute stroke teams available 24/7, led by a medical director who is board certified in neurology and clinical neurophysiology
State-of-the-art neuro-imaging capabilities and neurosurgical services 24/7
A dedicated stroke coordinator to oversee patient education and ensure each patient receives the highest standards of care
The Stroke Center's team includes board certified neurosurgeons, neurologists, physicians and nurses with advanced training in stroke care and Center for Emergency Care physicians who are board certified in emergency medicine. Staff and emergency medicine technicians are provided with special training on how to quickly assess and start appropriate care for patients who are experiencing a stroke.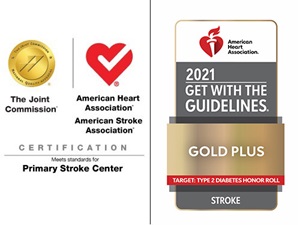 Committed to excellence, PMC has earned recognition in stroke care including: advanced certification as a Primary Stroke Center by the Joint Commission and the American Heart Association/American Stroke Association's Get With The Guidelines®-Stroke Gold Plus Quality Achievement Award, recognizing a commitment to the latest evidence-based guidelines for diagnosing and treating patients.
In addition, PMC's Center for Neuroscience Care features advanced transcranial Doppler technology, a non-invasive ultrasound technique that can assess individuals' risk for stroke before an event occurs, and RAPID imaging for non-contrast HCT, CTA and CTP studies. PMC's Helipad also facilitates rapid and critical care transportation, which is provided by the PennSTAR Flight program of Penn Medicine.
A Complete Continuum of Care
Individuals who are admitted to the hospital following a stroke receive care in our dedicated inpatient units.
For individuals who need additional assistance before returning home, Acute Rehabilitation Unit offers services to help stroke patients recover, including physical, occupational, speech and psychological therapy. This unit is staffed by experienced rehabilitation nurses and a team of other healthcare professionals who understand the sometimes complex needs of patients who have experienced a stroke.
Our comprehensive services also include assistance after you return home, through Princeton HomeCare, Princeton Rehabilitation and Princeton Fitness & Wellness Center programs. In addition, Princeton Health's Community Wellness offers periodic seminars with healthcare professionals about stroke prevention and treatment.
For more information about PMC's Stroke Center, call 1.888.742.7496.