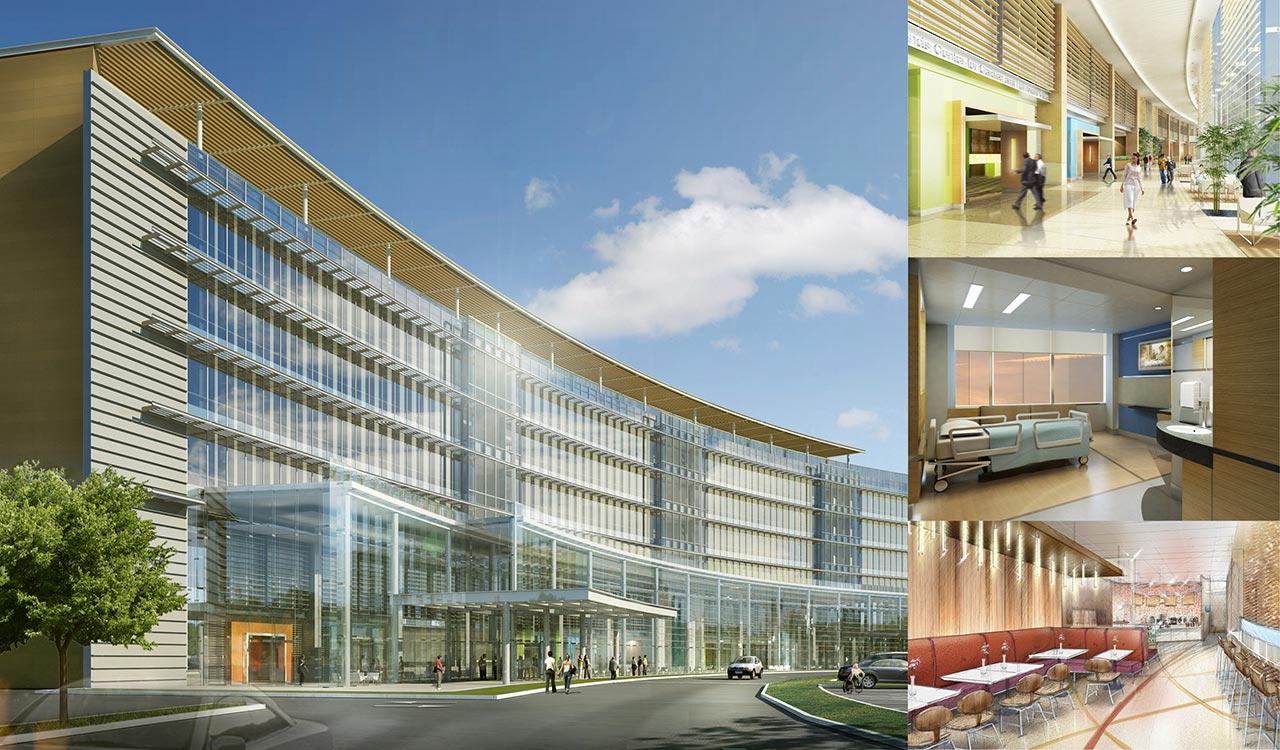 Design for Healing
Our new state-of-the-art hospital, Princeton Medical Center, will be a dynamic center of medicine and technology, comfort and compassion, disease prevention and education.  Your gifts to Design for Healing, our campaign for the new hospital, make this possible. 
The new hospital will be the centerpiece of a 160-acre medical campus off of Route 1 between Scudders Mill Road and the Millstone River.  Just 2.5 miles from downtown Princeton, the campus will offer a continuum of healthcare services, including:
A modern medical office building
A skilled nursing facility
A health and wellness center
A pediatric services facility
A 32-acre public park.
Examples of gifts to the new hospital include:
George and Estelle Sands Center for Cardiac and Pulmonary Care. The center will include diagnostic cardiology, pulmonary procedures and testing, a cardiac catheterization laboratory, and cardiac and pulmonary rehabilitation. 
Read the profile on the Sands.


William and Joan Schreyer Support Center for Community and Professional Education. The center will include:

An 80-seat interactive lecture room
3 video conference rooms
A library
A large lecture hall  
A Patient and Family Resource Center
A simulation laboratory
A virtual education center
Office space.
Read the profile on the Schreyers.


Gifts in any amount designated to a specific disease, technology or area of the hospital, such as cancer care or the chapel.
Unrestricted gifts in any amount to support general construction costs. 
Learn more about our new hospital.
Supporting Current Needs
Annual Giving funds current needs. Recent uses of these gifts include: 
Advanced Technology: A state-of-the-art MRI, the Signa HDx 3.0T system, which gives doctors unparalleled imaging capabilities, enabling them to make a more accurate and timely diagnosis. This MRI is useful in just about all specialties, including oncology, neurology, cardiology, orthopedics and pediatrics.
Enhancements to Emergency Services:

LIFENET, a computer system that allows paramedic units to send ECGs from the patient's home or the ambulance so the emergency department is more prepared when the patient arrives
Wireless communication equipment to improve staff support and efficiency
Additional training for emergency medical technicians

Services for Uninsured and Underinsured Patients:  

Services and equipment patients need to move from the hospital to home, such as wheelchairs, walkers, special beds and transportation.
Prescription drugs, especially costly drugs such as inhalers and insulin.

Hospice Services: Training for hospice volunteers, who provide much needed respite care to family caregivers during a very challenging time.