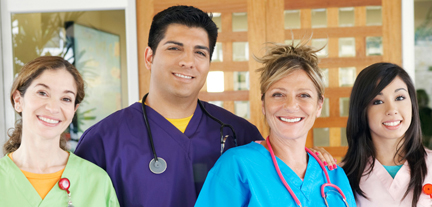 DAISY is an acronym for Diseases Attacking the Immune System. The Daisy Foundation was formed in January 2000 by the family of J. Patrick Barnes who died at the age of 33 due to complications of Idiopathic Throbocytopenic Purpura.
Pat was hospitalized for eight weeks and during this time the family was awed by not only the clinical skills but the incredible compassion they experienced from the nurses who cared for Pat and his family. In his honor the family formed the The Daisy Foundation and the DAISY Award. The DAISY Award celebrates the compassionate care of extraordinary nurses and pays tribute to the special human consideration nurses give their patients every day as a very important part of the healing process.
The criteria for the DAISY Award aligns with Princeton Health Vision Mission and Values:
Provides compassionate care through the healing of the mind, body and spirit
Effective and informative communication to patient, family and other health professionals
Outstanding teamwork exemplified by collaboration with others
Promotes patient centered care with a positive attitude
Princeton Health is offering the DAISY Award for our nurses. Patients, families, nurses, managers, physicians, staff and administrators can nominate someone who embodies the attributes listed above, keeping the main focus on the care of the patient and the family.
The Daisy Award nomination form can be filled out and put in one of the ballot boxes available throughout the hospital or emailed to daisyaward@princetonhcs.org.
Congratulations to all the nominees and especially to James Waters, our first DAISY Award Winner!!
2020 Winners
January - Maria Valades, BSN, RN, CEN, CPEN, HNC, Emergency Department
February - Bianca Csapo, BSN, RN, Mother Baby Unit
March - Marissa Harris, BSN, RN, PMHN-BC, Eating Disorder Unit
April - Lisa Sabo, BSN, RN, PMHN-BC, Eating Disorder Unit
May - Samuel Tootleman, RN, Telemetry Unit
June - Samantha Marquis, BSN, RN, CNOR, Ambulatory Surgery Center — Princeton
August - Caroline Rivera, BSN, RN, Float Pool
September - Me Ouk Choi, BSN, RN, Surgical Care Unit
October - Rebekah Backes, BSN, RN, Pediatrics Unit
November - Michelle Bradford, BSN, RN, CEN, CPEN, Emergency Department
2019 Winners
January - Benjamin Diccion, Radiology
February - Carol Schwab, Float
March - Jennifer Demko, ICU
April - Joan Jazcko and Samantha Pisarick, Tele
May - Melanie Delin, MNO
June - Jessica Baltadonis, OR
July - Annie Hoang, EDU
August - Sharon Tai, CDU

2018 Winners
January - Marc Rogol, Clinical Decision Unit
February - Hope Brembt, Telemetry
March - Zyhra Bethell, Home Care
April - Fiona Farquharson, EDU
May - Dawn Gordon, Same Day Surgery
June - Grace Espinoza, ICU
July - Barbara Heruska, NICU
August - Dee Balasingham, Telemetry
September - Diana Paczkowski, OR
October - Rebecca Masih, Surgical floor
November - Cassandra Moonsamy, Surgical floor
December - Cora Beth Reyes, Infusion
2017 Winners
January - Tiffany Gagliardo, MNO
February - Ann Marie Maldarelli, BMS Clinic
March - Annie Hoang, EDU
April - Barbara Pevahouse, Infusion Center
May - Allison Yiacas, Cardiac Cath Lab
June - Sandy Feldbauer, Mother Baby Unit
July - Mary Kiensicki, Breast Health Center
August - Teri Nachtman, BMS Clini