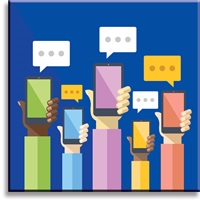 This past spring, outpatients received access to the free MyOutcomes® app for mobile devices, and they are encouraged to use it to complete two brief questionnaires each week. One questionnaire focuses on general outcomes and well-being, and the second asks patients to rate how therapy groups have addressed their needs over the preceding week.
Once data is entered by the patient, it is uploaded to a secure cloud-based server and can be immediately accessed by the therapy team. Therapists can use the information to track patient progress or to adjust the treatment approach if needed. Thus far, patient and therapist feedback on the ease of using the app has been positive.
"In our setting, many providers and interventions contribute to each patient's course of treatment," says Jonathan Krejci, PhD, Senior Director of Clinical Development and Performance Improvement at Princeton House. "The MyOutcomes® app represents an additional tool for clinicians to better understand their patients and focus process improvement efforts around clinical outcomes. It also further engages patients in their own progress." 
Princeton House and partial hospital programs are located in Princeton, Hamilton, North Brunswick, Moorestown, and Eatontown. For more information, call 888.437.1610 or visit princetonhouse.org.
---
Article as seen in the Fall 2017 issue of Princeton House Behavioral Health.