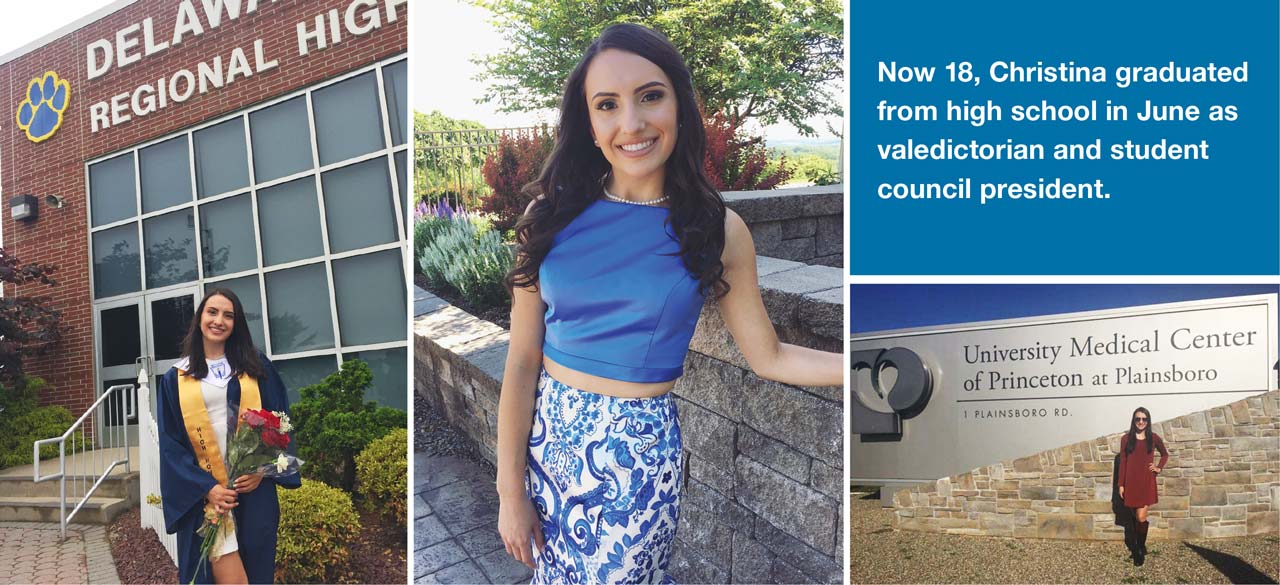 "Inpatient care was my only option," recalls Christina. "I learned a lot during treatment, but I wasn't at the point yet where I was trying to get better for myself."
Five months after completing inpatient and partial hospital treatment, Christina relapsed and returned to the Center for Eating Disorders Care.
The Path to Recovery 
"I realized that if I wanted to recover, it had to be for me," says Christina. "Sometimes it seemed impossible, but I started to believe I could do it with the help of my treatment team. I wanted to enjoy the other things that make me who I am, so there was no place in my life for my eating disorder."
Christina worked with her team to set small goals that brought her closer to recovery. She integrated treatment tools into her home life with the help of her parents, and she started sharing her experience once she returned home. She also began coordinating National Eating Disorders Awareness Week activities at her high school—an undertaking that has evolved into a week-long annual event. 
Now 18, Christina graduated from high school as valedictorian. She speaks about her experience at middle schools, hospitals, colleges, and treatment centers, including the Center for Eating Disorders Care. This fall, she is attending the University of Pennsylvania to study neuroscience. 
"Recovery is not only possible, but it's worth it," says Christina, who attributes both treatment experiences as integral to her journey. "I was able to overcome my eating disorder, and my mission is to pay it forward."
To learn more about Center for Eating Disorders Care, call 609.853.7575 or visit princetonhcs.org/eatingdisorders.
Key Predictors for Successful Recovery
While every patient has a unique path to recovery, the following factors are critical for success, according to Lynnette Peoples, MSN, PMHCNS-BC, APN, Director, Center for Eating Disorders Care at University Medical Center of Princeton.

MOTIVATION—Sometimes it must be slowly built with the help of therapists, but motivation makes treatment more effective.
Early intervention—The earlier a patient begins treatment, the better. Access to a positive, high-quality treatment experience is also essential.

SUPPORT—When therapists can engage family or other supportive interpersonal relationships in the treatment process, it helps promote a successful recovery. 
HOPE—There must be hope that things can be different and one can have a meaningful life after an eating disorder. Sometimes the therapist must serve as the source of hope during times when recovery seems impossible to the patient, but nonetheless, hope is critical.
Article as seen in the Fall 2017 Princeton House Behavioral Health.