By providing a complete continuum of care, the Center gives patients full access to the specialized clinical services, rehabilitative care, and support they need during treatment and recovery from cancer.
---
Nationally Recognized Care
PMC is helping to define new standards in cancer care while supporting national efforts to find a cure. Combining advanced diagnostic and treatment technologies with a dedicated treatment team of cancer experts, PMC's cancer services have received national recognition, including:
Accreditation as a Comprehensive Community Cancer Program by the American College of Surgeons Commission on Cancer (CoC), which is dedicated to improving survival and quality of life for patients with cancer. CoC accreditation recognizes programs that provide comprehensive, high-quality and multidisciplinary patient-centered care.

Full accreditation from the National Accreditation Program for Breast Centers, a program administered by the American College of Surgeons to improve quality of care and monitoring of outcomes for patients with diseases of the breast.. Less than one-quarter of acute care hospitals in the state of New Jersey have received this accreditation.
Designation as a Breast Imaging Center of Excellence by the American College of Radiology. Only five percent of breast imaging facilities nationwide have achieved this designation, a status granted to centers that have achieved high standards in image quality, personnel qualifications, equipment, quality control and quality assurance programs.
Full accreditation by the American College of Radiology, which is granted to programs that have met standards indicative of quality practice.
As part of Penn Medicine, our experts work with teams at the Abramson Cancer Center, a world leader in cancer research, patient care, and education, to provide access to advanced diagnosis and treatment.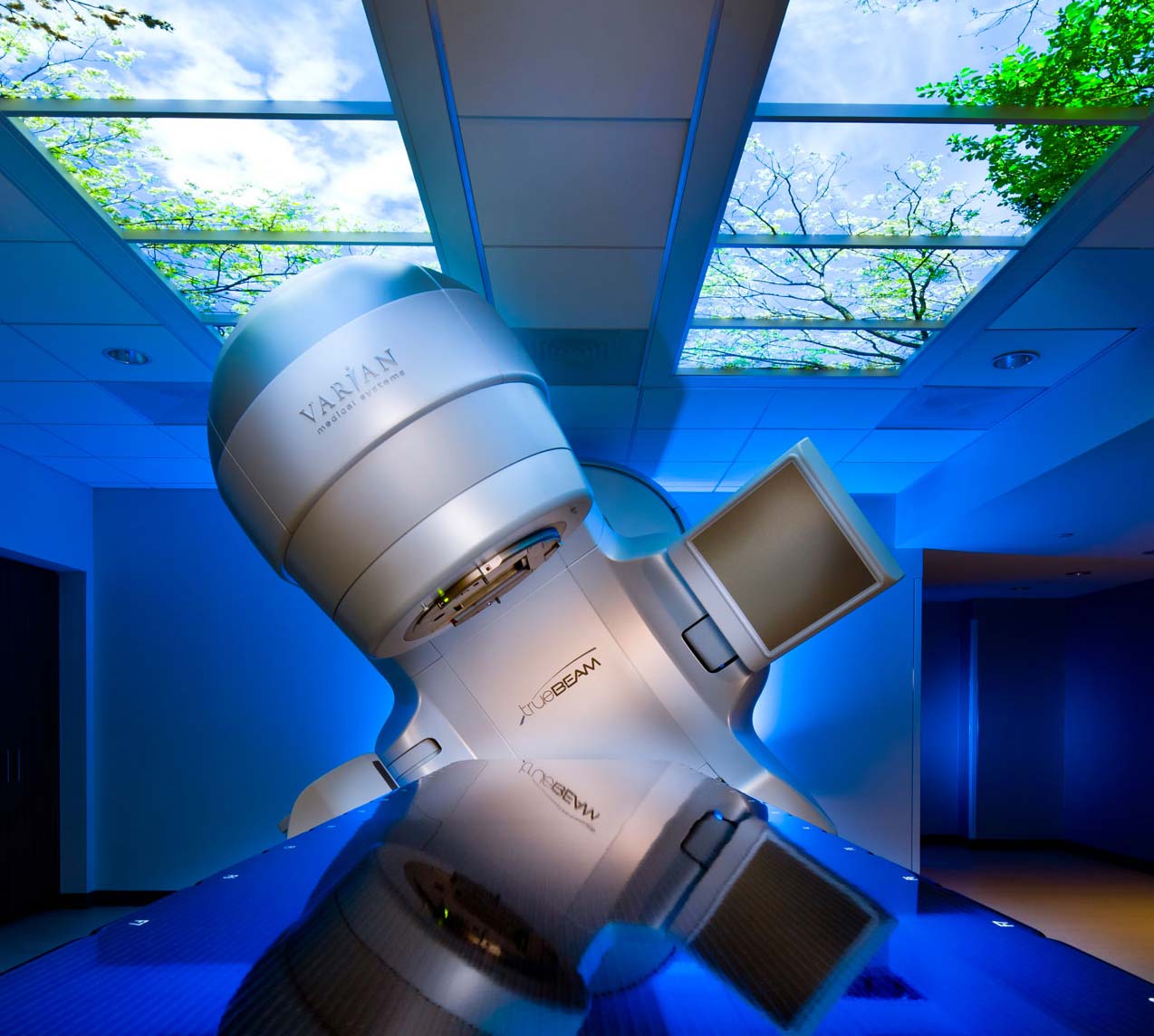 Advanced Diagnostic & Treatment Tools
The Edward & Marie Matthews Center for Cancer Care provides top quality comprehensive care close to home, using many of the latest advances in technology and science.
Radiation Therapy
The all-digital TrueBeam™:
Delivers radiation treatments with unparalleled precision and speed, reduces daily treatment times, improves targeting accuracy, and allows for great versatility in treatment design. Click here to learn more about the TrueBeam™ linear accelerator.
Supports intensity-modulated radiotherapy techniques that allow radiation oncologists to wrap the dose around irregularly shaped tumors, while sparing surrounding normal tissue.
Enhances treatment accuracy through image-guided radiotherapy, which localizes the tumor immediately before the delivery of each treatment—an important consideration when treating tumors, such as prostate and lung cancers, that shift their position within the body.
Supports techniques such as stereotactic radiosurgery, stereotactic radiation therapy, and stereotactic body radiation therapy, which deliver radiation to tumors with pinpoint precision, using only a few treatments to accomplish what used to require weeks of therapy.
Switches on and off in concert with a patient's breathing, so that tumors in the chest and abdomen do not move out of the beam's path when the patient takes a breath.
The linear accelerator is complemented by both a CT simulator and a PET/CT simulator that allow radiation oncologists to use multiple imaging techniques to localize tumor targets with state-of-the-art precision, thereby enhancing the accuracy of radiation treatment planning.
Our radiation oncologists also have an array of equipment that allows them to perform radioactive seed implants in selected patients with a variety of tumors, including prostate, breast and gynecological cancers.
Diagnostics
PMC offers direct access to state-of-the-art imaging and pathology services that help enhance treatment through fast and accurate diagnosis of disease. These services include endoscopic ultrasound, a procedure that enables physicians to see tumors and masses in the gastrointestinal tract and around the lungs, resulting in improved diagnosis and treatment.
Medical Oncology
The medical treatment that a patient receives is determined by the type, size and location of the cancer tumor(s). In some cases, specific genetic changes in the tumor may also determine the best type of treatment. Our medical oncologists prescribe a variety of treatments, often in combination, to treat cancer, including:
Chemotherapy treatment, which are drugs used to kill cancer cells.
Immunotherapy treatment, which helps the immune system fight cancer.
Targeted therapy, which targets changes in cancer cells that help them grow, divide and spread.
Hormone therapy, which slows or stops the growth of breast and prostate cancer.
Surgery
The da Vinci Surgical System®, a revolutionary robotic technology, provides patients with options for minimally invasive surgical procedures resulting in significantly less pain, less scarring, shorter recovery time, faster return to normal daily activities, and, in many cases, better clinical outcomes.
Operating suites equipped with surgical tools that reflect the latest in patient safety and comfort.
Comprehensive, Compassionate Care
The Edward & Marie Matthews Center for Cancer Care is designed to provide first-class care. From the very start, patients can expect personal attention from a multidisciplinary team that is involved in all aspects of their care. Our program emphasizes providing the personalized care of a community hospital with the advances of a respected teaching facility. We also provide a full continuum of support services. Every element of patient care, including décor, amenities, and patient services, is designed to promote comfort and healing:
The JoAnn Heffernan Heisen Infusion Therapy Suite, which faces the serene Punia Family Healing Garden, offers chemotherapy patients 19 treatment stations with recliners that have individually controlled heat and built-in massage. The suite includes a private patient room. Click here to learn more about the Infusion Therapy Suite.
An experienced oncology nurse navigator is available to guide and support patients and families throughout treatment and into survivorship.
Weekly cancer conferences are held with a multidisciplinary team of physicians who review National Comprehensive Cancer Network (NCCN) guidelines, along with the radiology, pathology and treatment plans for cases presented. A separate Weekly breast conference is held to review NCCN guidelines, along with the radiology, pathology and treatment plans for breast cancer cases. These weekly conferences are designed to ensure the most appropriate, personalized care is provided to all cancer patients.
Patients have opportunities to participate in clinical research treatment and prevention trials.
We emphasize providing care in a comfortable and comforting environment, giving patients and family members the encouragement they need, every step of the way. 
A dedicated oncology educator informs patients and their loved ones about all aspects of cancer treatment, disease management and community resources.
An oncology nurse manager visits daily with all inpatients in our program, encouraging open communication.
A comfortable, soothing outpatient infusion lounge makes high-quality care more convenient for those who wish to remain close to home and actively engaged in life's activities.
Exceptional patient satisfaction scores through Press Ganey, the healthcare industry's leading performance measurement and improvement firm, continually rank in the high 90th percentile.
Your Multidisciplinary Treatment Team
Coordinated care is provided for each patient by a multidisciplinary team of: 
Board certified physicians, including medical and radiation oncologists, surgeons, radiologists, pathologists and palliative care physicians
A certified nurse navigator who helps guide patients through diagnosis and treatment and into wellness 
Nationally recognized and certified oncology and infusion nurses
Dedicated nurse managers and oncology educators
Pharmacists with board certification in oncology and pharmacotherapy, staffing an on-site cancer pharmacy
A survivorship coordinator, who provides a cancer treatment summary and survivorship care plan to patients who complete treatment
Registered and certified radiology technicians and laboratory professionals
A registered dietitian, board certified in oncology nutrition
A licensed clinical social worker with specialty certification in oncology social work
An oncology financial navigator
Chaplains and volunteers
*Our certified oncology nursing staff has received national recognition from the Oncology Nursing Certification Corporation.
Onsite Patient Services
PMC provides the latest advanced diagnostic and treatment technologies in one patient-centered location, together with comprehensive supportive services:
Cancer screenings



Clinical trials
Dedicated oncology pharmacy
Integrative oncology services
Lymphedema therapy
Nutrition counseling
Pain management
Palliative care
Patient and family support groups
Pet therapy
Phlebotomy services
Psycho-social support
Rehabilitation
A Full Continuum of Care
Princeton Health offers a full continuum of support for all of your health and wellness needs, including:
Outreach & Awareness
Princeton Health is an outreach partner of  the American Cancer Society and Susan G. Komen for the Cure. Our outreach includes:
Complementary Medicine Programs 
Support groups
Free or low cost screenings
Lectures and seminars
Psychosocial support
Save