Nassau Inn Provides Respite for Princeton Health Staff
May 5, 2020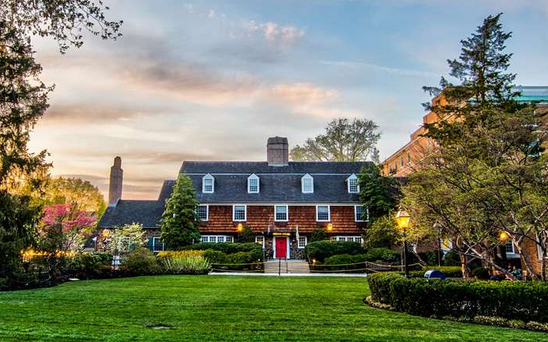 For employees and physicians treating COVID-19 patients at Princeton Medical Center (PMC), the Nassau Inn's pledge of free lodging was invaluable.

Hospital staff and physicians often work extended hours during the COVID-19 outbreak. The shifts can be difficult, and there is still much uncertainty about the virus.

Gladine Mitchell, a nursing assistant in PMC's Acute Care of the Elderly Unit, said having to commute home to Philadelphia every day would have been unmanageable. Long shifts at the hospital with long round trips in between posed a concern, but a bigger issue was the health of her children, including a son who has a weakened immune system.

"The Nassau Inn allowed me to keep my family safe while still being able to provide for my sons," Mitchell said. "Otherwise, I couldn't possibly afford the costs or the risks."

Mitchell is among 50 Penn Medicine Princeton Health staff members who stayed a combined 550 nights at the Nassau Inn in April. The Nassau Inn provided the rooms, along with downtown parking, for free. Recently, the inn's management agreed to extend the offer into the month of May.

"Now more than ever we understand the need for the community to come together to support one another, especially our front-line defense in this battle against COVID-19," said Lori Rabon, Vice President of Palmer Square and Nassau Inn. "The Nassau Inn is honored to offer support to the healthcare workers at Penn Medicine Princeton Health the only way we know how. Whether the medical professionals are here from out of town to help the fight or just need a safe place to catch up on sleep and shower between shifts, we are here for them. We hope they will continue to accept this small token of gratitude for all they are doing to care for our community and keep us safe."

Bijal Patel, RN, is one of several staffers in PMC's Llura and Gordon Gund Center for Critical Care who spent nights at the hotel.

"We feel blessed that the Nassau Inn provided us with one less thing to worry about," she said. "The staff has been nothing but welcoming, and we are truly grateful."

Michelle Dassa, RN, a staff member of the Medical-Neurology-Oncology Unit, said staying at the hotel instead of returning home was a difficult but necessary choice to prevent possibly exposing her parents — who are older and have health issues — to COVID-19.

"Before, I was going home, stripping in the garage and running into the shower," Dassa said. "Now, after a long day I can go back to my lovely and comfortable room, try to de-stress and get ready for the next day."

The COVID-19 outbreak resulted in a surge of patients who needed critical care, said Tobe Fisch, MD, Princeton Health's chief medical information officer. Physicians across the organization from other disciplines — including anesthesiologists, pulmonologists, and internists like Dr. Fisch — stepped up to assist. The offer from the Nassau Inn helped reassure volunteers.

"Knowing that I could have a room at the Nassau Inn allowed me participate in inpatient care without having to worry about bringing home an infection to any family members who might be at increased risk," Dr. Fisch said. "I and other healthcare providers on the medical staff here are very grateful to the Nassau Inn for their unstinting generosity."


About Penn Medicine Princeton Health
Penn Medicine Princeton Health is one of the most comprehensive healthcare systems in New Jersey, providing acute care hospital services through Princeton Medical Center; behavioral healthcare through Princeton House Behavioral Health; in-home nursing, rehabilitation and hospice care through Princeton HomeCare; primary and specialty care through Princeton Medicine Physicians; ambulatory surgery and wellness services. For more information, visit www.princetonhcs.org. Penn Medicine Princeton Health is part of the University of Pennsylvania Health System (UPHS), which, together with the University of Pennsylvania's Raymond and Ruth Perelman School of Medicine, forms Penn Medicine, one of the world's leading academic medical centers, dedicated to the related missions of medical education, biomedical research and excellence in patient care.
MEDIA CONTACT
Andy Williams, 609-695-6173
andrew.williams3@pennmedicine.upenn.edu



Recent News