Kevin B. Mahoney Named CEO of University of Pennsylvania Health System
March 20, 2019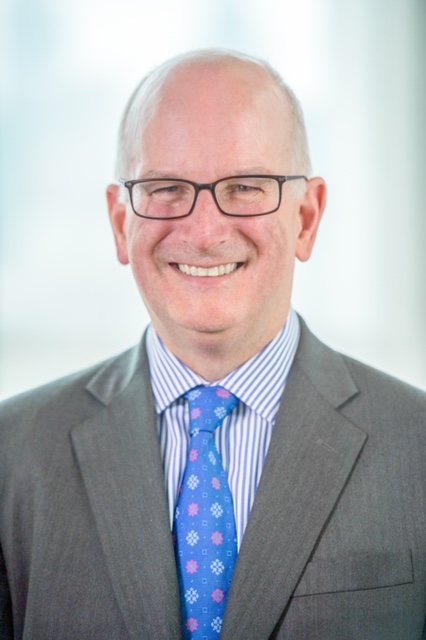 Penn Medicine Leader Praised for Developing Visionary Health System Infrastructure and Supporting Lifesaving Innovations
PHILADELPHIA – Kevin B. Mahoney will become the next CEO of the University of Pennsylvania Health System (UPHS), University of Pennsylvania President Amy Gutmann, PhD, and J. Larry Jameson, MD, PhD, executive vice president of the University of Pennsylvania for the Health System and dean of the Perelman School of Medicine, announced today. Mahoney will assume his post on July 1, 2019, succeeding Ralph W. Muller, who has served as the health system's CEO since 2003.
Mahoney is a 23-year veteran of leadership roles at Penn Medicine, currently serving as the Executive Vice President and Chief Administrative Officer for UPHS, as well as the Executive Vice Dean for Integrative Services for the Perelman School of Medicine.
"Kevin has an unrivaled breadth of experience and depth of knowledge of health care in an integrated academic medical center, combined with a profound personal commitment to Penn's ambitious vision to build the academic health system of the future," said Dr. Gutmann. "We are confident that Kevin will successfully lead the team-based effort to propel UPHS to even greater heights, building on its unparalleled successes and enormous momentum."

Reporting to Dr. Jameson, Mahoney will lead a health system which has grown over the past six years from three Philadelphia-based academic medical centers to encompass a broad footprint across the region, including the addition of three nationally recognized hospitals stretching from Lancaster, Pa., to Princeton, NJ, and an expansive outpatient network which provides more than 5.7 million visits per year. UPHS joins with the Perelman School of Medicine – which this month was ranked #3 in U.S. News & World Report's annual list of the nation's top medical schools – to form Penn Medicine, a $7.8 billion organization.

Among his marquee leadership achievements at Penn Medicine, Mahoney developed the master plan concept for the former Philadelphia Civic Center site, known today as the Ruth and Raymond Perelman Center for Advanced Medicine and the Roberts Proton Therapy Center. These facilities, together with the Smilow Translational Research Center and the Jordan Medical Education Center, became the nation's first single building to fully integrate biomedical research, clinical care, and medical education. Building on this tremendous success, Kevin planned and now leads the project for the Pavilion project on Penn's University City campus, adjacent to the Hospital of the University of Pennsylvania. The Pavilion, set to open in 2021, is the largest building project in Penn's history and will be the most advanced inpatient hospital facility in the nation.

"Kevin was a chief architect behind so many of the efforts for which Penn Medicine has become nationally renowned. He was an early and strong contributor to our campus-wide efforts to make innovation part of Penn's and Penn Medicine's DNA," Dr. Jameson said. "Those efforts are saving lives across the world, spurring Penn Medicine's role in the development and commercialization of six FDA-approved therapies within just the past 18 months. Kevin is a champion for the ideas that will become tomorrow's cures, supporting everything from small-scale start-up efforts to larger commercialization agreements and industry partnerships that are mapping what the future of health care will look like."

Mahoney joined UPHS in 1996, and during his tenure has held additional positions including Executive Director of Penn's primary care physician network and CEO of Phoenixville Hospital. He has served as a crucial strategist for Penn Medicine's growth across the Delaware Valley, from the integration of Chester County Hospital into UPHS, to the move of Penn Medicine's Level 1 trauma center to Penn Presbyterian Medical Center, to the construction of five multispecialty ambulatory facilities across region. Most recently, he oversaw the implementation of a common electronic health record platform across Penn's hospitals, numerous outpatient clinics, and home care – making it the only comprehensive system of its kind in the region.

"Penn Medicine is a truly unique place where a collaborative spirit and teamwork builds on our rich history to lead the way forward in academic medicine," Mahoney said. "My appointment as the next CEO of UPHS is humbling, and I am truly excited by this opportunity. Having worked at Penn Medicine for 23 years, I have seen first-hand the miracles performed by our faculty, physicians and staff. I know our best days are ahead with even more breakthrough treatments and the continued evolution of patient-centered care. I am grateful to President Gutmann and Dr. Jameson for giving me this unparalleled opportunity to continue serving Penn, Penn Medicine and our patients."

David L. Cohen, Chair of the Trustees of the University of Pennsylvania, and Andrew R. Heyer, Chair of the Penn Medicine Board, provided key counsel during the national search process for the CEO role, which began after Muller announced plans to step down last June.

Mahoney received his Bachelor of Arts degree in economics from Millersville University and an MBA and Doctorate in Business Administration from Temple University. He serves on numerous boards for non-profit organizations in the Delaware Valley, including Puentes de Salud and Community Volunteers in Medicine. He has been recognized for his dedication to community and volunteer work, most recently as the recipient of the 2018 Heart of Philadelphia Award by the American Heart Association.


###
Penn Medicine is one of the world's leading academic medical centers, dedicated to the related missions of medical education, biomedical research, and excellence in patient care. Penn Medicine consists of the Raymond and Ruth Perelman School of Medicine at the University of Pennsylvania (founded in 1765 as the nation's first medical school) and the University of Pennsylvania Health System, which together form a $7.8 billion enterprise.

The Perelman School of Medicine has been ranked among the top medical schools in the United States for more than 20 years, according to U.S. News & World Report's survey of research-oriented medical schools. The School is consistently among the nation's top recipients of funding from the National Institutes of Health, with $405 million awarded in the 2017 fiscal year.

The University of Pennsylvania Health System's patient care facilities include: The Hospital of the University of Pennsylvania and Penn Presbyterian Medical Center — which are recognized as one of the nation's top "Honor Roll" hospitals by U.S. News & World Report — Chester County Hospital; Lancaster General Health; Penn Medicine Princeton Health; Penn Wissahickon Hospice; and Pennsylvania Hospital – the nation's first hospital, founded in 1751. Additional affiliated inpatient care facilities and services throughout the Philadelphia region include Good Shepherd Penn Partners, a partnership between Good Shepherd Rehabilitation Network and Penn Medicine, and Princeton House Behavioral Health, a leading provider of highly skilled and compassionate behavioral healthcare.

Penn Medicine is committed to improving lives and health through a variety of community-based programs and activities. In fiscal year 2017, Penn Medicine provided $500 million to benefit our community.
CONTACT:
Holly Auer
Cell: 215-200-2313
holly.auer@uphs.upenn.edu



Recent News