We recognize that many corporations have targeted philanthropic initiatives. Partners can dedicate funding to specific projects or programs that fall within their giving structure. Support might include funding pediatric care, providing scholarship funds for our nursing staff, funding specific equipment or departments, supporting our First Responders and Veterans or supporting community education programs.
Areas of focused support include, but are not limited to:
Maternity Center
Taking a newborn home is an exciting and memorable experience. Partner support can provide heart safe monitors for new moms at risk of high blood pressure or newborn
swaddles for new mothers to take home.
Behavioral Health
PMPH offers extensive inpatient and outpatient behavioral health care and is a regional leader in treatment for women and trauma, adolescents and first responders. Partner support can provide programmatic funding or more specific focus in areas such as community workshops for schools and organizations in mental health or items of need such as journals for our adolescents.
Art Therapy
The creative arts have a long history in aiding therapy and healing. Partner support enhances our ability to provide art therapists working with seniors on our ACE unit.
PMPH Cancer Center
The Cancer Center provides a complete continuum of care, giving patients full access to specialized clinical services, rehabilitative care, and support they need during treatment and recovery. Partner support can provide funding for patient support programs like yoga, massage and reiki or financial counseling to help navigate the expenses related to car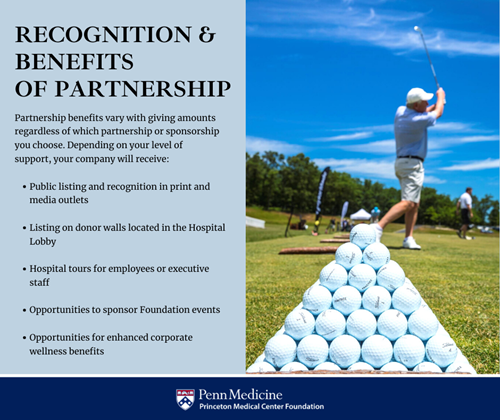 ---
Events & Series Sponsorships
PMPH holds a variety of community wide events and sessions throughout the year. A majority of our sponsored events are free to the public, while others are designed to raise money for specific programs. Sponsorships are a wonderful opportunity to increase visibility and advertising within the community. Packages begin at $2,500. Benefits are tailored to event and sponsorship amount.
In-Person & Virtual Sessions: PMPH offers a variety of programming dedicated to promoting healthy living at every stage of life and to enhancing quality of life by addressing needs of women, men, seniors, children, adolescents and diverse populations. Sponsorship of a series of classes includes prominent online logo recognition and on the PMPH website.
Events: PMPH offers a host of events year round Including our Annual Golf Outing, Kids Marathon, Cancer Survivor Day, Women's Health Luncheon, Celebrity Guest lectures and more. A complete list of sponsorship opportunities and benefits is available upon request.