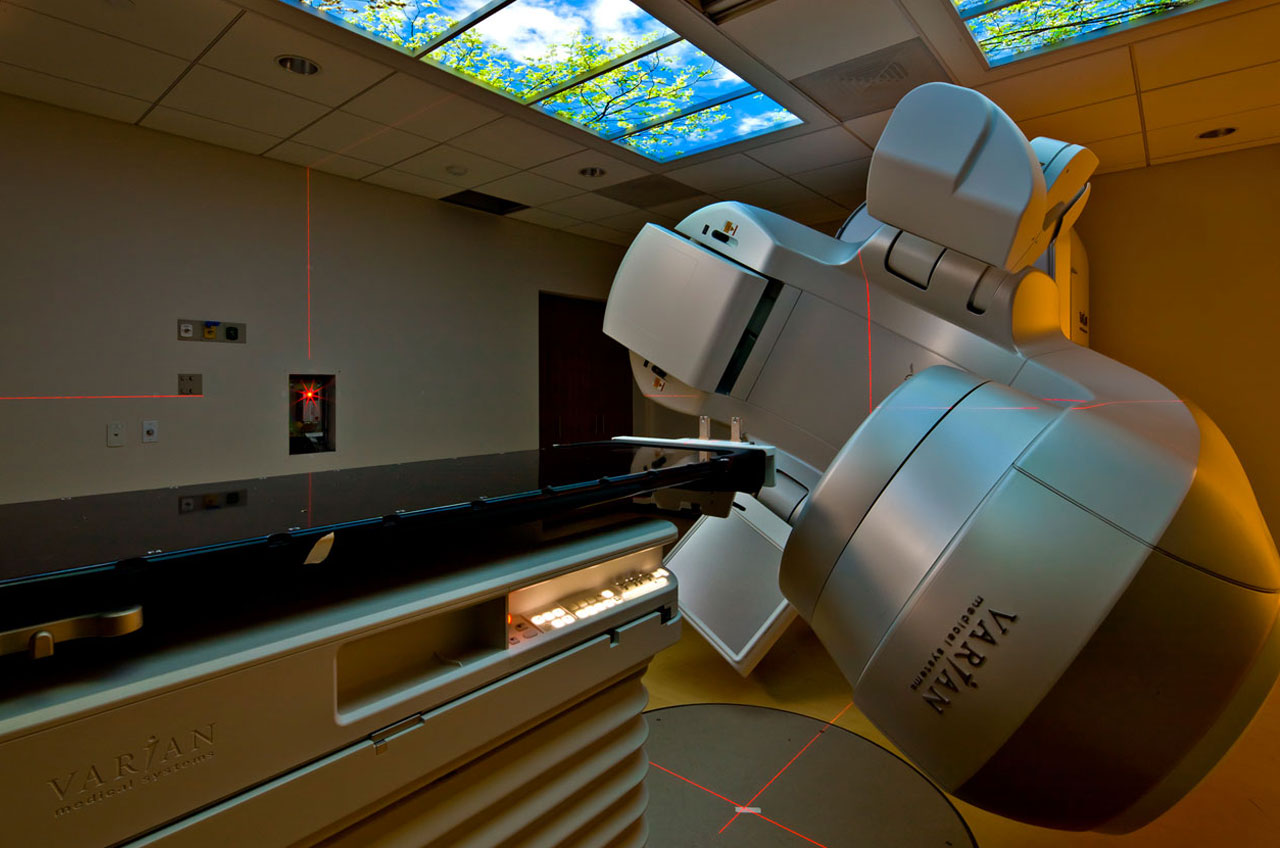 With pinpoint accuracy, the all-digital TrueBeamTM linear accelerator delivers cancer-killing radiation to tumors of varying size and shape, sparing surrounding healthy tissue. An important addition to the cancer-fighting arsenal at the new Edward & Marie Matthews Center for Cancer Care, this state-of-the-art equipment dramatically increases the Center's range of radiation therapy options.

The TrueBeamTM  supports Intensity Modulated Radiation Therapy (IMRT) techniques that allow physicians to tailor each radiation beam to the exact shape of the tumor through the movement of more than 100 individual computer-controlled shields built into the machine. The accelerator can even take X-rays or CT scan images to determine the precise location of the tumor to facilitate last-second adjustments before delivering the treatment, an important consideration when treating tumors such as prostate and lung cancers that shift their position within the body. 
In addition to such Image Guided Radiation Therapy (IGRT), this new accelerator also supports techniques such as Stereotactic Radiosurgery (SRS), Stereotactic Radiation Therapy (SRT) and Stereotactic Body Radiation Therapy (SBRT) that deliver radiation with pinpoint precision to tumors in appropriate patients using only a few treatments to accomplish what used to require weeks of therapy to achieve, or required the use of specialized equipment such as a GammaKnifeTM  or a CyberknifeTM . 
One of the many advanced features of the TrueBeamTM  is its ability to switch the beam off and on in concert with a patient's respiration, so that tumors in the chest and abdomen do not move out of the beam's path when the patient takes a breath. The TrueBeamTM  treats a wide variety of cancers, including tumors of the breast, brain, colon, lung, pancreas, head and neck, and even skin. The all-digital machine is also the new platform uniquely designed to accept all the innovations currently in development.

The new linear accelerator is complemented by both a CT simulator and a PET/CT simulator that allow radiation oncologists to use multiple imaging techniques to localize tumor targets with state-of-the-art precision to enhance the accuracy of radiation treatment planning. Our radiation oncologists also have an array of equipment that allows them to perform radioactive seed implants in selected patients with a variety of tumors, including prostate, breast and gynecological cancers. 
PMC's TrueBeamTM  linear accelerator is one of just 230 installed worldwide. PMC's Edward & Marie Matthews Center for Cancer Care unites cutting-edge services in a specially designed space,offering high-quality clinical care and compassionate support in a modern, warm setting. PMC received the Commission on Cancer's Outstanding Achievement Award for oncology services.

For more information about the TrueBeamTM linear accelerator, contact one of the radiation oncologists at PMC's Edward & Marie Matthews Center for Cancer Care at 609.853.6780.