Kim Pimley, Rachel Dultz, MD, to receive YMCA Centennial Award
September 25, 2017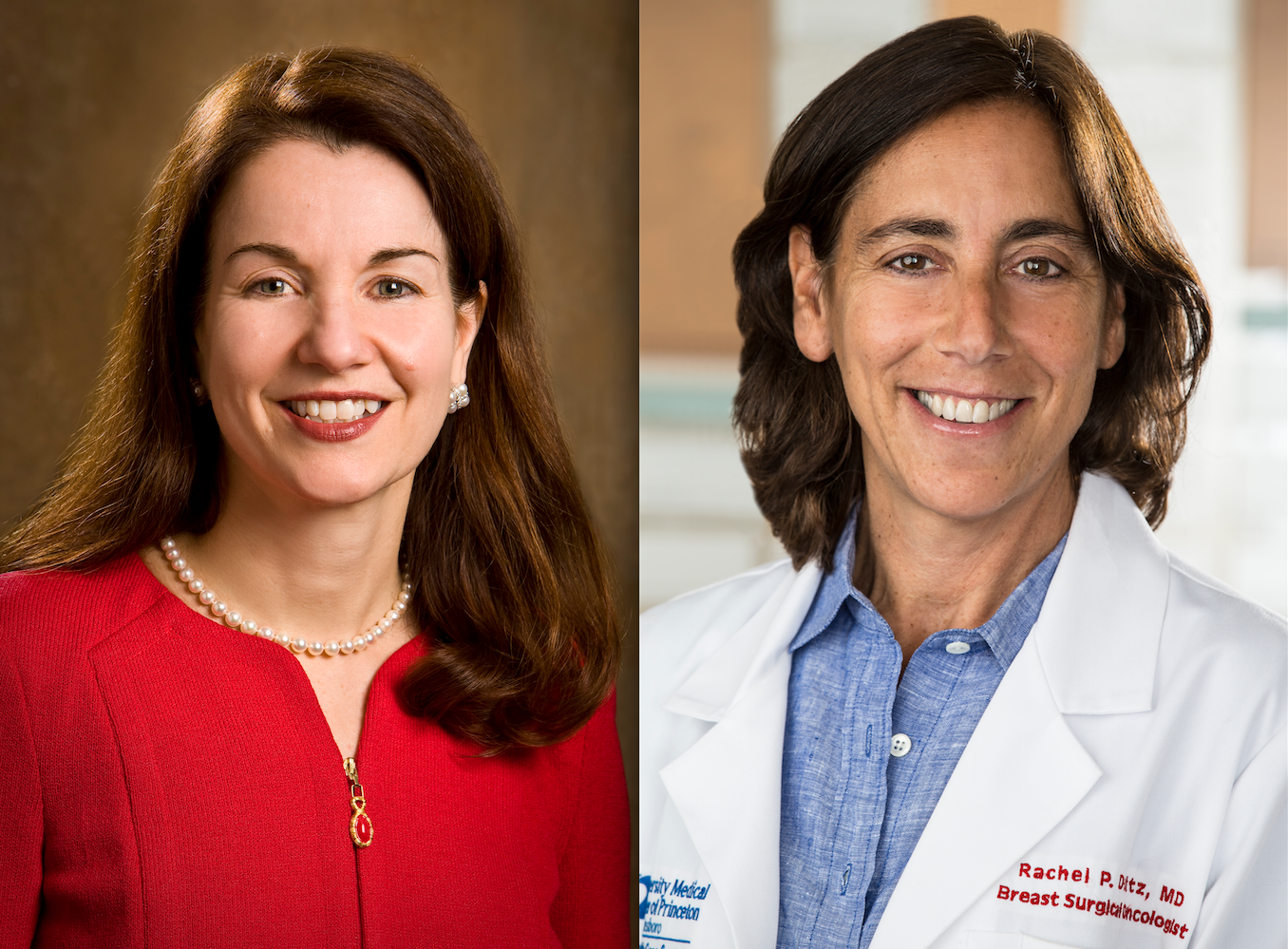 Princeton HealthCare System (PHCS) Board of Trustee Chairman Kim Pimley and University Medical Center of Princeton (UMCP) Breast Health Center Medical Director Rachel Dultz, MD, FACS will each receive the YMCA of Princeton's Centennial Award for Healthy Living. They will be honored along with four other honorees at the 2017 YMCA Centennial Awards ceremony on Thursday, October 26 at the Princeton Family YMCA.
Created in honor of the YMCA of Princeton's 100th year milestone celebrated in 2008, the Centennial Award honors distinguished individuals in a profession or field of achievement. The theme for this year's award is "healthy living." The six recipients for this award were chosen for their outstanding leadership and commitment to improving the health and wellbeing of those in the community and for exhibiting the YMCA's four core values of caring, honesty, respect and responsibility in their daily lives.
Ms. Pimley has served as the Chairman of the PHCS Board of Trustees since 2014. Prior to her current role, she served as Chairman of the PHCS Foundation. She co-founded Pimley & Pimley Inc. and is President of P&P Training Resources Inc. These consulting firms have designed and delivered training in credit, corporate finance and derivatives to commercial and investment banks in over 40 countries in English and German.
Dr. Dultz is a Fellowship-trained Breast Surgical Specialist and a board certified surgeon as well as a Fellow of the American College of Surgeons (FACS). She has been the Medical Director of the UMCP Breast Health Center since it opened in 2006. She is also a Clinical Assistant Professor at Rutgers Robert Wood Johnson Medical School.
Dr. Dultz is a member of the PHCS Foundation Board of Directors, where she served on the Golf Committee and the Physicians' Development Committee during Design for Healing, the capital campaign that supported the construction of the new UMCP. The Physicians' Development Committee helped raise more than $5 million from over 460 physicians and their families. She is also the recipient of the 2017 William P. Burks Physician Philanthropist of the Year Award, which is awarded annually by PHCS.
For more information about the 2017 YMCA Centennial Awards, visit
http://princetonymca.org/events/centennial/
About Princeton HealthCare System
Princeton HealthCare System is a comprehensive, integrated healthcare system that strives to anticipate and serve the lifelong needs of central New Jersey residents, including acute care hospital services through University Medical Center of Princeton, behavioral healthcare through Princeton House Behavioral Health, rehabilitation, home care, hospice care, ambulatory surgery, a primary and specialty medical practice, and fitness and wellness services. For more information, visit www.princetonhcs.org.
CONTACT:
Andy Williams, 609-252-8785
anwilliams@princetonhcs.org
Recent News