Works of Heart
February 15, 2019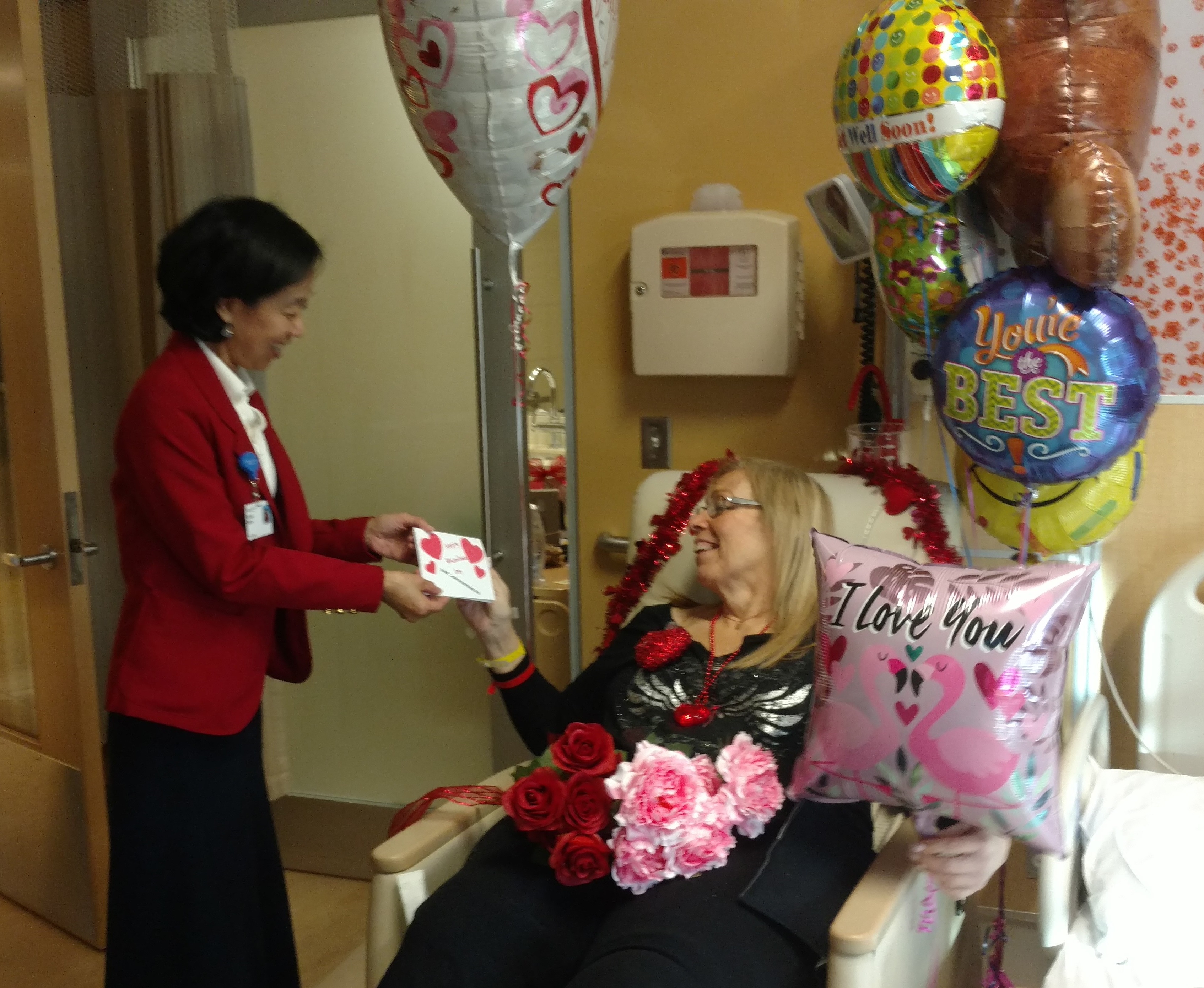 Handmade Valentines Make the Rounds at Princeton Medical Center
Patients at Princeton Medical Center (PMC) yesterday received handmade valentines bearing heartfelt well wishes, courtesy of the crafting talents of hundreds of volunteers, visitors, staff members and physicians.
More than 600 cards were created in late January, when Princeton Health volunteers staffed a table outside the PMC restaurant giving willing crafters an opportunity to create a valentine for a patient. The activity at PMC was part of a Penn Medicine system-wide initiative that was modeled after a Penn Medicine employee's similar effort to distribute cards throughout the year to patients with cancer.
Staff members who participated told volunteers staffing the table that making the cards was therapeutic, said Edward Callahan, director of Volunteer Services at Princeton Health. He noted that the effort extended beyond the hospital as well.
"We had doctors and nurse managers who took the materials home for their kids to make cards," Callahan said. "People took them to Girl Scout troops. A volunteer's mother who is a school teacher took the materials for her class to participate."
Cards were delivered to nursing stations throughout PMC yesterday in anticipation of handing them to patients today.
Earle Jacobs, a volunteer who was delivering cards on the Surgical Care Unit, said one patient told him, "It means a lot to know people care," while another chimed in: "You made my day!"
About Penn Medicine Princeton Health
Penn Medicine Princeton Health is one of the most comprehensive healthcare systems in New Jersey, providing acute care hospital services through Princeton Medical Center; behavioral healthcare through Princeton House Behavioral Health; in-home nursing, rehabilitation and hospice care through Princeton HomeCare; primary and specialty care through Princeton Medicine Physicians; ambulatory surgery and wellness services. For more information, visit
www.princetonhcs.org
. Penn Medicine Princeton Health is part of the University of Pennsylvania Health System (UPHS), which, together with the University of Pennsylvania's Raymond and Ruth Perelman School of Medicine, forms Penn Medicine, one of the world's leading academic medical centers, dedicated to the related missions of medical education, biomedical research and excellence in patient care.
MEDIA CONTACT:
Andy Williams, 609-252-8785
andrew.williams3@pennmedicine.upenn.edu
Recent News