Princeton Medical Center Recognized for Achievements in Stroke Care
October 21, 2020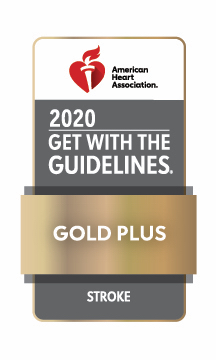 For the second year in a row, Princeton Medical Center (PMC) earned the Get With The Guidelines®–Stroke Gold Plus Quality Achievement Award, which is granted by the American Heart Association/American Stroke Association (AHA/ASA) to hospitals that demonstrate a commitment to high-quality stroke care based on the latest scientific evidence.

To receive the Gold Plus Award, PMC met or exceeded specific quality achievement measures for diagnosing and treating stroke patients for two consecutive years.

The measures include evaluation of the proper use of medications and other stroke treatments aligned with the most up-to-date, evidence-based guidelines with the goal of speeding recovery and reducing death and disability.

Before discharge, patients should receive education on managing their health and schedule a follow-up visit as well as other care interventions — for instance, an assessment for rehabilitation services.

"The Get With The Guidelines–Stroke program supports excellent care every step of the way, particularly in expediting diagnosis and treatment," said Paul K. Kaiser, MD, Medical Director of PMC's Stroke Program. "This is crucial when someone is having a stroke and every minute matters."

Philip Tran, RN, Stroke Coordinator at PMC, commended the physicians, nurses, pharmacists, therapists, and senior managers on the hospital's Stroke Committee for their leadership in pursuing excellence in stroke care. PMC also holds advanced certification from The Joint Commission as a Primary Stroke Center.

According to the AHA/ASA, stroke is the No. 5 cause of death and a leading cause of adult disability in the United States. On average, someone in the U.S. suffers a stroke every 40 seconds and nearly 795,000 people suffer a new or recurrent stroke each year.

The AHA/ASA attempts to raise public awareness of stroke warning signs and the need for timely treatment by emphasizing the acronym FAST:

—Face drooping
—Arm weakness
—Speech difficulty
—Time to call 911

Fast, effective diagnosis and treatment of a stroke takes on added importance in 2020, when individuals may choose to delay seeking emergency care due to concerns about the potential to be exposed to Coronavirus Disease 2019 (COVID-19).

Patients can be assured that Princeton Health is taking extensive precautions to ensure their health and safety. Learn more at www.princetonhcs.org/healthandsafety.


About Penn Medicine Princeton Health
Penn Medicine Princeton Health is one of the most comprehensive healthcare systems in New Jersey, providing acute care hospital services through Princeton Medical Center; behavioral healthcare through Princeton House Behavioral Health; in-home nursing, rehabilitation and hospice care; primary and specialty care through Princeton Medicine Physicians; ambulatory surgery and wellness services. For more information, visit www.princetonhcs.org. Princeton Health is part of the University of Pennsylvania Health System (UPHS), which, together with the University of Pennsylvania's Raymond and Ruth Perelman School of Medicine, forms Penn Medicine, one of the world's leading academic medical centers, dedicated to the related missions of medical education, biomedical research and excellence in patient care.

About Get With The Guidelines®
Get With The Guidelines® is the American Heart Association/American Stroke Association's hospital-based quality improvement program that provides hospitals with tools and resources to increase adherence to the latest research-based guidelines. Developed with the goal of saving lives and hastening recovery, Get With The Guidelines has touched the lives of more than 9 million patients since 2001. For more information, visit heart.org/quality.
Recent News