PHCS, Princeton Fitness & Wellness Host 5K Race and 1 Mile Fun Walk
October 9, 2017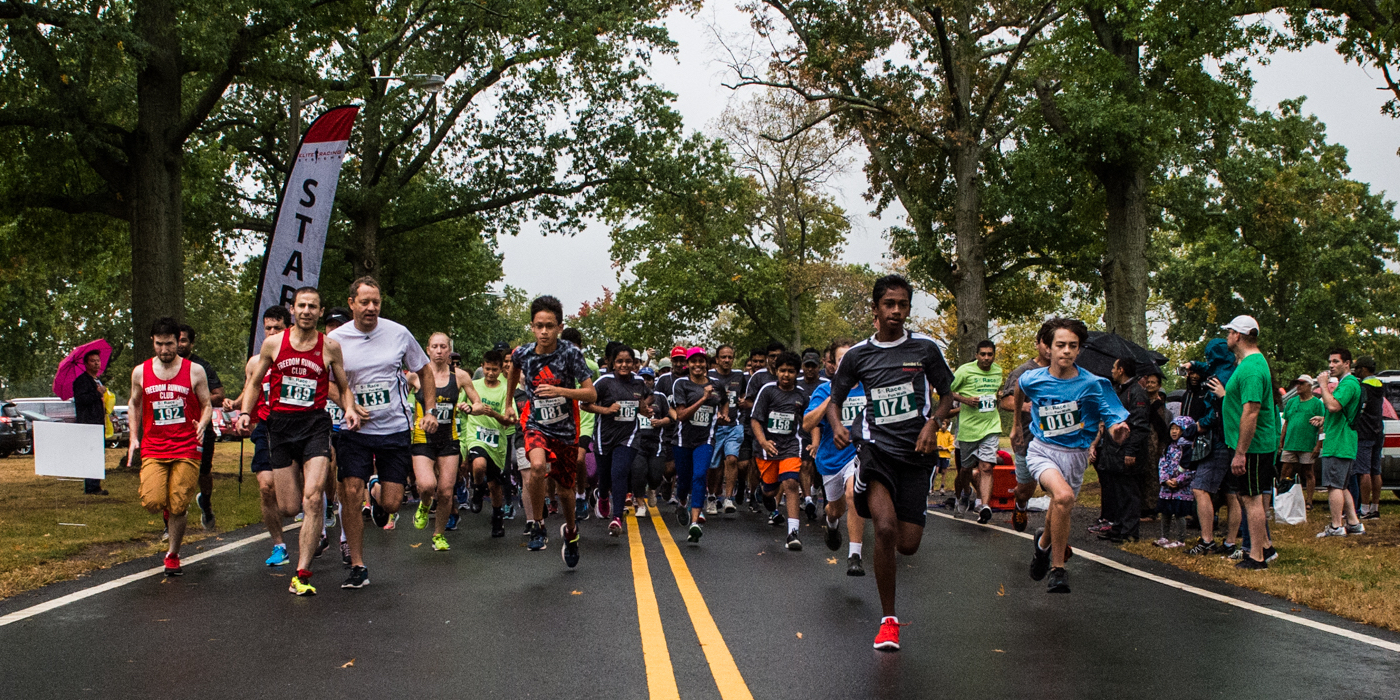 Nearly 200 people, including 154 runners aged 7 to 87, participated in the 4th annual Princeton HealthCare System (PHCS) 5K Race and 1 Mile Fun Walk, held Sunday, October 8 at Skillman Park in Montgomery.

The event was presented by PHCS Community Education & Outreach in partnership with Princeton Fitness & Wellness Centers.

Atilla Sabahoglu of Manville covered the five kilometers in 17:23, or a pace of 5:36 per mile, to finish first among the 154 runners. Sabahoglu has placed in the top two finishers at PHCS' event for four consecutive years.

The top female finisher, Erika Meling, finished the race in 19:14, an average of 6:12 per mile. Meling has been among the top two female finishers at the PHCS race for three years in a row.

Samuel Hartman of Plainsboro, who finished third overall and second among the men, also posted a pace of 6:12 per mile. In second position among the women was Casey Nelson of Skillman, finishing at 6:40 per mile. The third female finisher was Christine Witt of Rocky Hill, at 6:43 per mile. Mustafa Aytas of Garfield took third among the men, finishing at 6:44 per mile.

The 5K Race was a USA Track & Field (USATF) Certified Course, Sanctioned Event and Grand Prix Event. For full results, click here.
Before the 5K Race, PHCS and Princeton Fitness & Wellness hosted a reunion brunch for patients of the Jim Craigie Center for Joint Replacement, a specialized unit at University Medical Center of Princeton (UMCP) that has earned The Joint Commission's Gold Seal of Approval for hip and knee replacement procedures. Dozens of people, including many joint replacement patients, then participated in the 1 Mile Fun Walk.

Proceeds from all the day's events will benefit the care and services provided by the Jim Craigie Center.

The 5K Race and 1 Mile Fun Walk was sponsored by 94.5 PST, the Medical Staff of Princeton HealthCare System, Magic 98.3, Machinery and Harmelin Media.


About Princeton HealthCare System
Princeton HealthCare System is a comprehensive, integrated healthcare system that strives to anticipate and serve the lifelong needs of central New Jersey residents, including acute care hospital services through University Medical Center of Princeton, behavioral healthcare through Princeton House Behavioral Health, rehabilitation, home care, hospice care, ambulatory surgery, a primary and specialty medical practice, and fitness and wellness services. For more information, visit www.princetonhcs.org.

MEDIA CONTACT:
Andy Williams, 609-252-8785
anwilliams@princetonhcs.org


Recent News