A Message to Our Community from Barry S. Rabner, President and CEO
May 7, 2020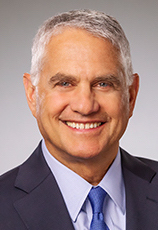 On behalf of all of us here at Penn Medicine Princeton Health, I want to thank you for all you are doing to help stop the spread of the coronavirus disease 2019 (COVID-19) in our community.
By staying home, practicing social distancing – also referred to as physical distancing – and covering your face when out in public, you are making a positive difference.
Emergency Care and Key Services Remain Available
Hospitals never stop caring for their community, including in times of crisis.
Our emergency department remains open and fully staffed. This public health crisis would be compounded if people avoided needed care, such as care for heart attacks and strokes. Please, if you are experiencing an emergency, call 911 or go to the emergency department.
Other key services also remain available, such as labor and delivery, laboratory testing, imaging, outpatient rehabilitation, and home health and hospice care. Many physician practices continue to have office hours for both sick and well visits.
The only surgeries that have been temporarily suspended are those that were able to be deferred during the pandemic. 
Your Health and Safety are Our First Priorities
The safety and well-being of our patients, staff and physicians remain our highest priorities. We have implemented policies and procedures to help ensure we are providing a safe environment. Here are only a few of the many changes we have implemented:
All staff, providers, vendors, and potential visitors receive a health screening (including a temperature check and a series of questions) prior to entering the hospital or Education Center. Staff with symptoms are tested, and those who test positive must stay home until they are fully recovered.
All staff, providers, patients and visitors are required to wear a protective mask or face covering at all times, except when eating or drinking.
Clinical care providers follow safety measures per the Centers for Disease Control and Prevention and the New Jersey Department of Health including wearing personal protective equipment to ensure care is provided in a manner that promotes safety for patients and themselves.
Prior to surgeries requiring general anesthesia or intubation, each patient has a COVID-19 test 24 to 48 hours prior to admission. If a patient tests positive, a decision will be made between the patient and their surgeon regarding the safety of delaying the procedure.
These processes and practices will continue as we move toward resuming regular operations safely.
Virtual Visits
During this challenging time, when the health and safety of the community are our paramount concerns, Princeton Health is offering existing patients of Princeton Medicine Physicians access to Penn Connected Health Virtual Visit.
This is a virtual visit allowing existing patients and their Penn Medicine provider to connect remotely either by telephone or through a secure video app, from the comfort of their home or office. Many other physicians on our medical staff are also offering telehealth visits. Please contact your provider for more information.
For more information about Princeton Medicine Physicians virtual visits or to schedule an appointment, please call 609.853.7272.
In addition:
Edward & Marie Matthews Center for Cancer Care continues to offer patients the care they need. The Center has taken extra measures to ensure patient safety including: performing health screenings for both patients and staff, requiring a mask be worn at all times, restricting visitors, isolating patients who have tested positive for COVID-19, providing telehealth, and following all CDC and DOH precautions for handling and cleaning of their facility.

Princeton Rehabilitation is providing outpatient physical therapy services from the safety of a patient's home or office via telehealth. This virtual service is available for many common conditions such as lower back pain, neck pain, osteoporosis, sprains and strains. They are also available to patients who need postoperative care. Patients will be assessed and treated by licensed and credentialed physical therapists. For more information about physical therapy services or to schedule a rehabilitation visit, please call 609.853.7840.
Princeton House Behavioral Health has transitioned outpatient care for new and existing patients to a telehealth format and continues to provide inpatient services at the hospital as normal. For more information about Princeton House Behavioral Health virtual visits or to schedule an appointment, please call 888.437.1610.
Penn Medicine Home Health Princeton Health continues to provide home health care for patients discharged from the hospital or recovering from illness. While in-person care remains available from clinicians with appropriate personal protective equipment, patients have the option of virtual visits to minimize exposure to people from outside their household. Patients also receive daily telephone calls to assess their vital signs and monitor their health. For more information about home health services, please call 609.497.4900. The phone line is staffed 24 hours a day, seven days a week.
Visitor Policy
To further protect patients, staff and visitors during the COVID-19 pandemic, we have implemented a visitation policy that is more restrictive than usual. Patients are only allowed to have visitors in the following special circumstances:
Labor and delivery, including postpartum, patients: One healthy partner/support person to stay for the duration of the admission.
Neonatal intensive care and pediatric patients: One healthy parent, entering the facility one time per day.
Disabled or special needs patients: One healthy visitor to assist.
End-of-life patients: One healthy visitor at a time.
Thank You
We are grateful for the tremendous outpouring of support from our community for our doctors, nurses and other healthcare workers.
From the heartfelt cards and signs to the food and other donations, your expressions of support remind us that we are all in this together.
Thank you.
This has been a trying time for everyone, and we know it has been stressful waiting for surgery, or a diagnostic test, or a specific treatment.
Please be assured that we understand your feelings, and meeting your health needs in a safe environment continues to be of utmost importance to us. We will continue to stay in touch with updates, information and support.
At Princeton Health, we have been providing safe, high-quality, life-saving care for Central Jersey for more than 100 years, and we look forward to providing more extensive services in the coming weeks and months as the number of COVID-19 cases decreases.
Recent News